Crosbie Group operate a dedicated 24 hour emergency help desk. We can provide you with and connect you to one of our dedicated support engineers at any time 7 days a week, 365 days a year, nationwide.
In an emergency out of hours situation, our support manager, dedicated on-call service engineers and H&S officer will ensure that they take ownership of the situation and comprehensively manage it until all repairs are complete in a safe and efficient manner.
Your equipment works around the clock, so we work around the clock to keep your equipment working. Our 24 hour emergency support team is available day or night for large equipment repairs.
| | |
| --- | --- |
| RESPONSE TIME | We treat all calls as a matter of urgency and realise that a fast response is vital for the continuation of services to support you business. |
| DEDICATED MANAGER | As an emergency arises it is first assessed and then quickly passed to a dedicated support manager who will liaise and be your point of contact. |
| DEDICATED SUPPORT MANAGERS | The support manager will assess the situation and ensure that the H&S officer along with the dedicated support engineers are aware off the nature of the emergency, are on route and give the client a timeline. |
| OFFICE SUPPORT | Our support desk will work with our engineers to ensure parts are ready or on fast order to arrive on site as soon as physically possible. We carry a multitude of spare parts for all systems and manufacturers. |
| ON SITE | Our support team, manager, engineer and HS officer if required will remain on site until service is restored and a plan of action is completed that ensures the safe/certified operation of equipment is completed. A full report is drafted and communicated to the client. |
| COMMUNICATION | At every stage we communicate to the client, the nature of the emergency, potential hazards, fixes, restorative measures, preventative maintenance, parts required, estimated downtime. Predicted time of restoration. On completion a full report is drafted and communicated to the client. |
Our Checklist
Checklists & Systems in place with our team
Service Management System allows our technicians to operate paper-free, as all information is logged via their hand-held devices
Benefits to you as our customer include: cost control, real-time invoicing, legible reports, equipment audits, arrival to/departure from site are all timed and dated.
Consistency of delivery
Each of engineers has a van check list that they check off each morning to ensure quicker turnaround time of service calls to give you our customer a prompt and efficient service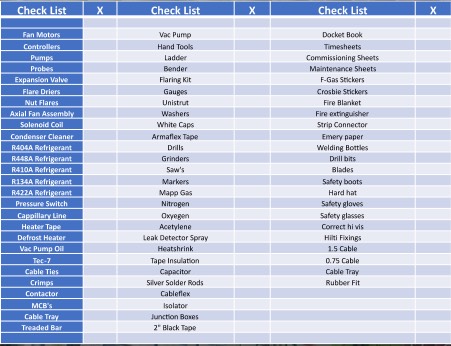 We provide 24 Hours Emergency
Service to the following industries:
– Supermarkets
– Hotels
– Pubs
– Restaurants
– Gyms
– Pharmaceuticals
– Health & Medical Sector
– Offices
I am very pleased with the service provided by Crosbie Group, and I am confident that our working relationship will grow in 2020 and beyond.

Damien McCabe Dunboyne Castle
We have worked with Crosbie Group on a number of projects in recent years. During this time we have found Wayne and his team to be efficient, professional & capable in all aspects of their business. They are excellent at adhering to project finish deadlines & are very attentive to their client's needs. They understand the high standards we require in relation to health, safety & quality of installation from our contractors.

Peter Reilly – Erba Engineering
We have been working with Wayne & his team since the establishment of Crosbie Group. The service they provide is first class. Their response time to an emergency breakdown is always within 4 hours – They communicate extremely well & always keep us up to date. Their engineers are extremely courteous & communicate well with managers & staff in Butlers. I would recommend them without hesitation & we are happy to continue a very successful working relationship.

Vasilii Stepa – Butlers Chocolates